SMARTBRIX
– THE BROKER SOFTWARE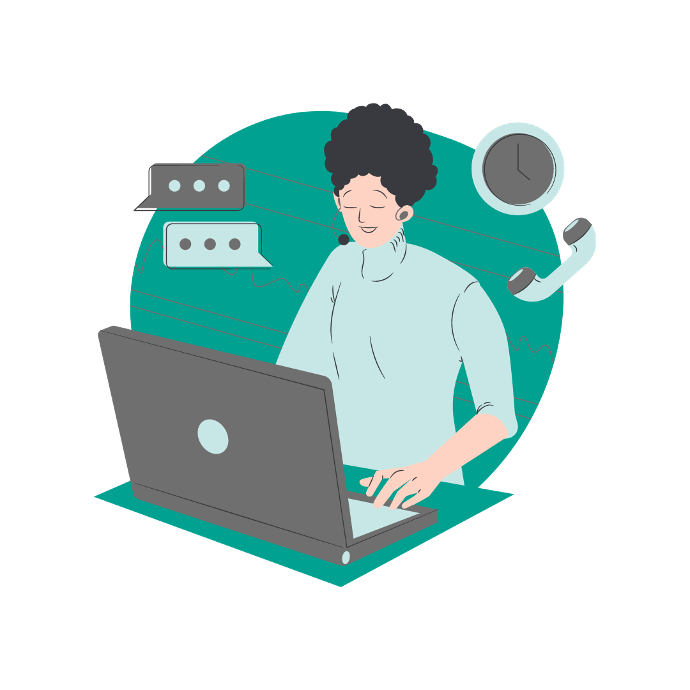 SMARTBRIX for real estate agents
€
45
,
00
/ month / user
net plus 19 % VAT.
Cloud hosting in Germany
Comprehensive support
Automatic data backup
Price transparent & fair
Why SMARTBRIX as broker software?
You are a real estate agent and have not yet found the optimal software solution for you? The SMARTBRIX brokerage software offers you an all-round package for only 45 € per month, with which you can present and market your properties in the best possible way. Without any hidden costs and additional packages.
Useful features and tools integrated in one software
The broker CRM SMARTBRIX offers a user interface that is individually customizable, so that not only intuitive work is promoted but also a maximum of efficiency.
Advertise your properties with just a few clicks and create an overview that contains all the important features and properties for your prospective buyers.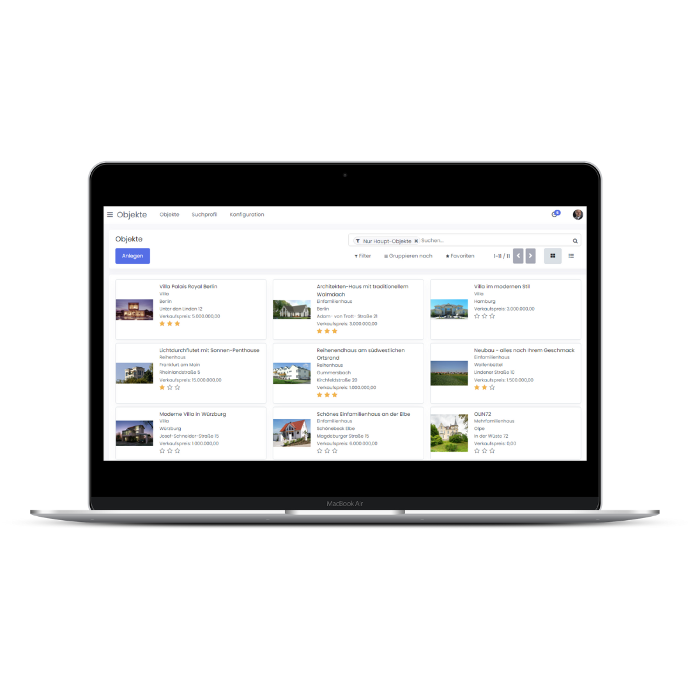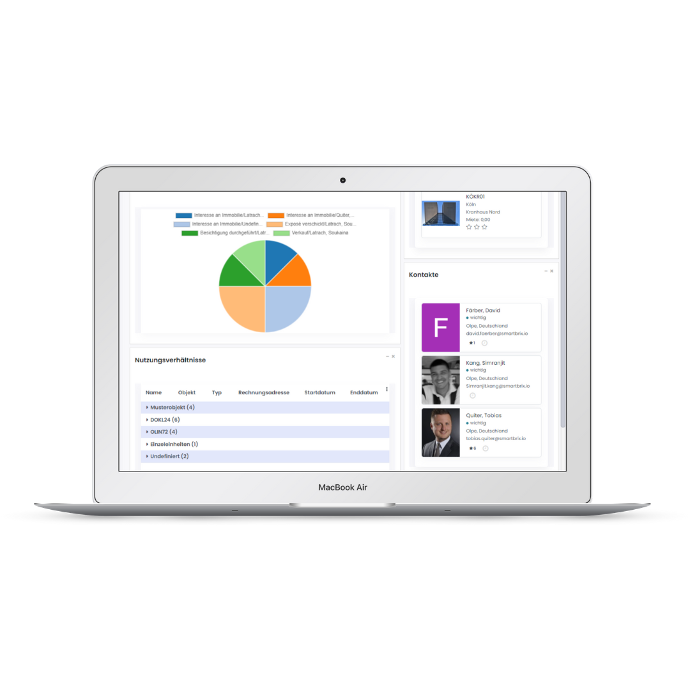 All around view
Overview of your properties directly in the dashboard and see all important features, such as location, price or status of your property at a glance. Check the accuracy of your listings immediately via the incoming inspection and easily revise them using the brokerage software.
In the property view you will find an overview of all residential and commercial properties. Here your properties are in direct comparison with each other, so that you as a broker can quickly and easily view all important data.
All key data in one overview
The SMARTBRIX brokerage software contains an overview of the individual listings that provide more detailed information about the associated key data. These data include the year of construction of the property, the exact address of the object and its size. You can easily select whether the listing is for sale, rent or lease by placing a check mark.
But also detailed data, such as the number of different rooms, or whether the property is suitable for smokers and pets, can be set. The view is supplemented with important points about the contract and qualifications and thus provides information about all the important information for you and your customers.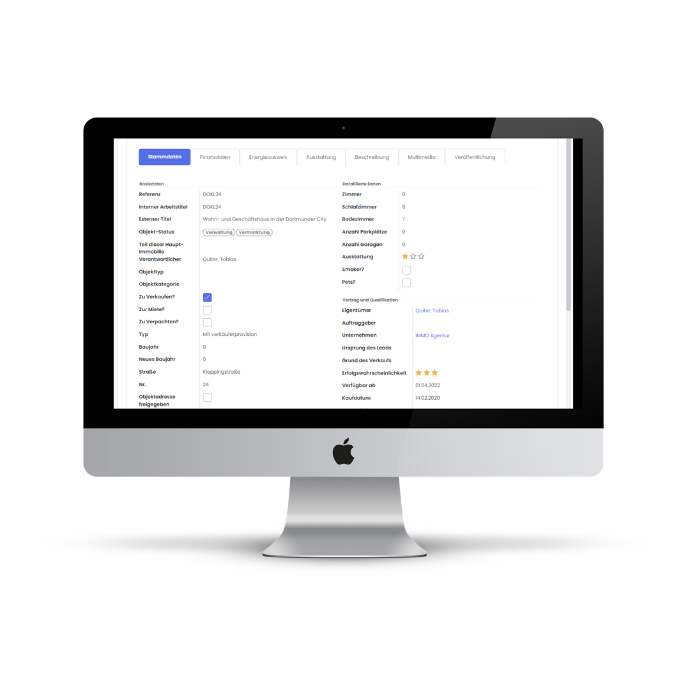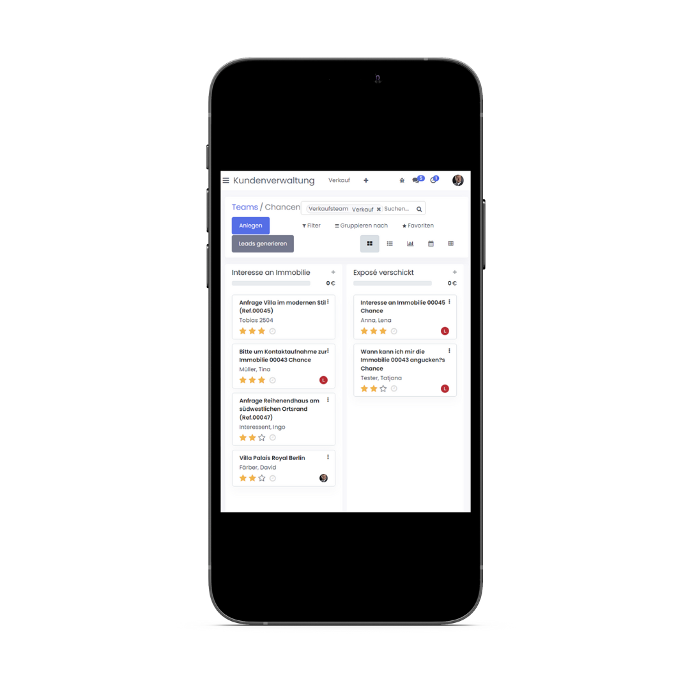 Sophisticated customer management for better communication
A good CRM is essential when it comes to interacting with potential and existing customers. Stay in touch and accurately deliver the information you need with SMARTBRIX as your broker software. The broker CRM helps you as a broker to maintain customer relationships and provide the best possible service.
Professional marketing for more visibility​
Keep track of strategies and activities with SMARTBRIX as your brokerage software to develop measures that optimally meet the needs of your potential and existing customers. Start your customer communication and create target group oriented email campaigns or newsletters.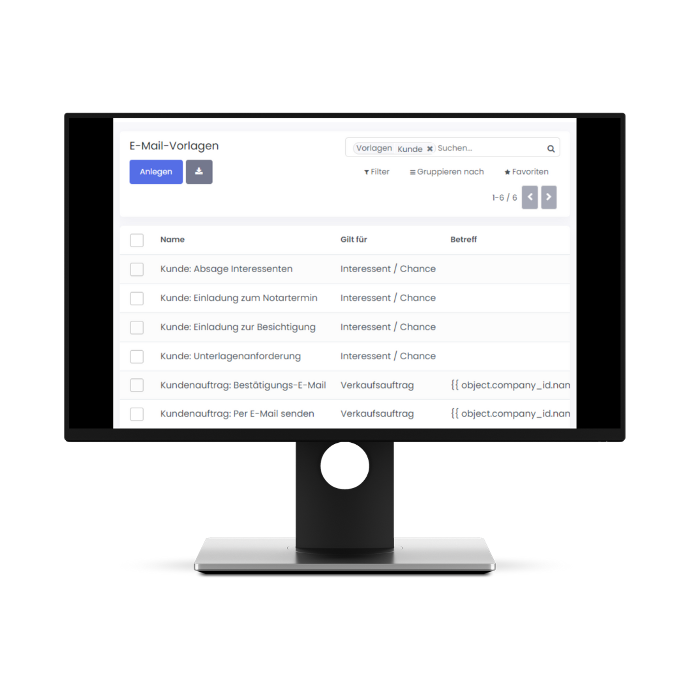 Web platform
Design your own website using the smart option of a modular system integrated into your broker CRM. Here you can choose from a variety of customizable templates with just a few clicks and present your properties in the best possible way.
Through our portal you are fully legally secured and protected by law.

Processes
All processes of the brokerage software are comprehensively automated: from the recording of the property to the viewing appointment. Not only save time, but also use what you have more efficiently by using the connection option to other real estate portals or resorting to innovative features.

Mobile usage
Work on the device of your choice and always have your brokerage software at hand - whether on a smartphone or tablet. Get started now and work wherever and whenever you want.